Overall, the Behringer DR600 is an excellent choice for anyone looking for a versatile and affordable reverb pedal.
With six different reverb modes and a high-quality sound, it's a great option for both beginners and experienced guitarists alike.
POSITIVES
Uses high-quality components and materials as parts which gives it durability.

Sound quality is fit for singing commercial tunes

Has dual output jacks.

Easy to use.

Its LED light indicator will tell you when the effects are actually at work or not.

A lot cheaper compared to other brands.

Manufacturer warranty can be asked from customer service.
NEGATIVES
It does not come with a power supply.

Its mixer controls might be a little too sensitive sometimes.

You will have to remove the footswitch to access its battery compartment.
As a musician, I understand the importance of having high-quality effects pedals to enhance my sound. One of the most essential effects pedals for any guitarist is a reverb pedal, which can add depth and dimension to your playing. The Behringer DR600 is a popular reverb pedal that has gained a reputation for its versatility and affordability.
Top Tips for Buying a Reverb Pedal
Consider the type of reverb that the pedal produces. Some pedals offer a range of reverb types, such as hall, plate, and spring, while others focus on a specific type. The Behringer DR600 offers six different reverb modes, including spring, plate, and hall, giving you plenty of options to choose from.
Consider the quality of the pedal's sound. A good reverb pedal should produce a natural, organic sound that enhances your playing without overpowering it. The Behringer DR600 has received praise for its high-quality sound, which is comparable to much more expensive pedals on the market.
Table of Contents
Is the Behringer DR600 One of the Best Pedals?
I'm a musician and gear enthusiast and I would say thatI know how important it is to have the right effects pedals to create the perfect sound.
One pedal that I have owned for years now is the DR600, when it first came out it made a lot of waves in the industry because it has such a versatile range of reverb effects, this pedal has become a go-to for guitarists and other musicians like myself looking to add depth and dimension to their sound.
So let's get into it..
If you're looking for a budget-friendly reverb pedal, the Behringer DR600 is definitely worth considering.
Product Features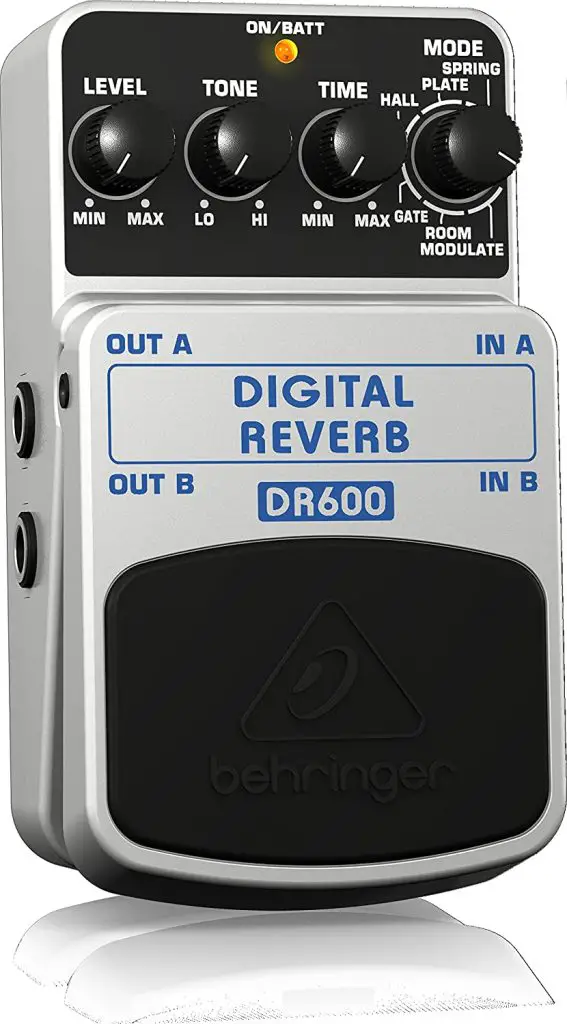 Behringer DR600 Digital Stereo Reverb Effects Pedal
Designed in Germany, the Behringer DR600 Digital Reverb Pedal features 24-bit high-resolution reverb effects.
These effects include Spring, Plate, Hall, Gate, Room and Modulate which gives it a lot of basic options. These effects are good enough for commercial tunes and standards.
The DR600 also gives you a lot of ease when using it too. This is because of its 'Mode control' that lets you dial either Time, Level or Tone.
These controls will help you control how much effect you put into your music and when you put one.
Lastly, it comes with a blue status LED for battery status check. This also tells you when the DR600 is activated.
In addition, the on/off switch maintains a great signal when it is in bypass mode.
The Behringer DR600 runs on a 9-volt battery or a PSU-SB DC power supply that is sold separately.
What To Look For When Buying a Reverb Pedal?
The Effects
One of the things you should look into is the effects in your pedal. Some reverb pedals come with effects installed but some allow effects to be downloaded onto them.
Another thing to look at is how the effects affect your music. Does it distort your music? Make humming or buzzing sounds when you plug it into your instrument. Or leave your music sounding off-key?
Playing with the effects can be a great experience, put some time aside to really explore what sounds you like and how you intend to use the pedal.
The Pedal
Moreover, look into the pedal itself and the controls. Is the pedal too stiff to push or step on? Are the mixer controls too sensitive or not? But most importantly, see if the effects available in the reverb pedal suit your music style and your taste. This will mostly determine if the reverb pedal is worth it for you. Not the price, the brand, or its popularity.
Although you may encounter more factors other than the ones listed above, those are just some things you should consider when buying a reverb pedal.
Features to Consider
| Feature | Description |
| --- | --- |
| Reverb Type | Choose between classic spring reverb or modern, versatile options |
| Number of Settings | Consider how many reverb settings are available for more or less versatility |
| Sound Quality | Look for high-quality, clear reverb that doesn't distort or muddy sound |
| Price | Choose a model that fits within your budget while still offering desired features and quality |
How To Keep Your Reverb Pedal in Top Shape
Bear in mind that most, if not all, effect pedals don't come with a power adapter. This is why you have to make sure that your battery or your adapter is totally compatible with your effect pedal.
Also, remember to use authentic audio jacks to avoid any unwanted hums or buzzes whenever you apply effects to your music. Avoid letting your effect pedal heat up. If it starts creating noises, stop using it first and check up on it or your amp/mixer.
When it comes to using your reverb pedal the best way, there are no concrete rules here. A lot of musicians usually develop a mentality that a reverb effect must come before this or after that.
It's always best to experiment and see what works best for you.
Note: The Behringer DR600 runs on a 9-volt battery or a PSU-SB DC power supply that is sold separately.
Pros and Cons of the Behringer DR600
I have used the Behringer DR600 digital reverb pedal for some years now and it's a pedal I always go back to. If you're considering getting one yourself, I've compiled below some pros and cons based on my experience below:
Affordable: The Behringer DR600 is a budget-friendly option for those in need of a reverb pedal. It offers a variety of reverb types at a fraction of the cost of some higher-end models.
Versatile: The DR600 offers six different reverb types, including plate, hall, spring, and more. This makes it a versatile option for a range of musical genres and styles.
Very easy to use: The pedal is straightforward to use, with easy-to-understand controls. The knobs are responsive and allow for quick adjustments on the fly.
Compact size: The DR600 is relatively small and lightweight, making it easy to transport and fit on a pedalboard.
Limited control: While the DR600 is easy to use, it does have limited control compared to some higher-end reverb pedals. For example, there is no option to adjust decay time or pre-delay.
Plastic construction: The pedal's plastic construction may not hold up as well as metal pedals over time, especially with heavy use or regular gigging.
No true bypass: The DR600 does not have a true bypass option, which may affect the overall tone of your signal chain.
The Behringer DR600 is a budget-friendly, versatile reverb pedal that is very easy to use. While it may not have all the bells and whistles of some higher-end models, it is an excellent option for those on a budget or looking for a straightforward no-nonsense reverb pedal that is built to last.
I really like the dedicated controls for mode, time, tone, and level. I found and still do find that it is easy to dial in the perfect reverb sound for my needs. The blue LED status light is also a nice touch, letting you know when the pedal is activated.
While the plastic pedal housing is not as durable as some other pedals on the market, the DR600 is still built with high-quality components and is exceptionally rugged. I feel confident that it will last me a long time to come.
I'm very happy with my purchase of the Behringer DR600 and it continues to be one of my favourite pieces of kit. It's a solid choice for anyone looking for a budget-friendly reverb pedal.
Is Behringer Good or Bad As A Brand?
As a music enthusiast, I have come across Behringer products several times. Over the years, the brand has developed a reputation for producing affordable gear that is accessible to musicians of all levels. However, there has been a lot of debate about the quality of the brand's products, and whether they are worth investing in.
In my experience, Behringer has produced both good and bad products. While some of their gear has been top-notch, others have been disappointing. It is important to note that this is not unique to Behringer, as every brand has its hits and misses.
One of the advantages of Behringer is that they offer a wide range of products at a very affordable price point. This makes their gear accessible to musicians who are just starting out or on a tight budget. Additionally, the brand has been around for a long time and has a loyal fan base that swears by their products.
Behringer DR600: A Comprehensive Review of the Digital Reverb Pedal